10 Ways to Beat the Back to Work Blues
There are a few things worse than the first day back in the office after a week or two of vacation! After lounging by the pool with Mai-Tai's and gorgeous heat, that Monday of heading back to your cramped cubicle or stuffy workstation holds little appeal. But thankfully, we've got a few ways for you to beat your "back to work blues". Trust me, with these tips, you'll have no trouble surviving your first days at the office:
A New Look
You've just spent a week getting a nice tan, so you've got that golden-brown skin color that goes brilliantly with smoky eyes and deep ruby lipstick. Why not try a new look and give your co-workers a glimpse at the new you? [caption id="" align="aligncenter" width="763"]
Source: fitnesskites.com[/caption]
A New Outfit
Summer is over, meaning the cold is just around the corner! No need to go full-on parkas and overcoats just yet--instead, try an outfit like the elegant, classy one below: [caption id="" align="aligncenter" width="628"]
Source: fashionnhome.com/[/caption]
A New Pair of Shoes
Who doesn't love a bit of retail therapy to soothe the horror of having to get back to work? This pair of
Cocolico Ndakinna clogs
matches with your awesome work-chic outfit, pairing nicely with both summer and early winter clothes. [caption id="" align="aligncenter" width="675"]
Source: www.mnn.com[/caption]
A New TV Show
Nothing like a good TV show to take your mind off the drudgery of being back at your desk! If you haven't started Netflix's
Orange is the New Black
, it's definitely time to join the millions of others who make smart decisions. The story is clever, the characters are fascinating, and the cast is brilliant--these three seasons will keep your mind occupied. [caption id="" align="aligncenter" width="663"]
Source: www.hercampus.com[/caption]
A New Book
What better way to drown out the "back to work blues" than
a brand new book
that will take you on a journey into a fantasy world? Don't expect unicorns, dwarves, and fairies; this is a dark, twisted tale guaranteed to have you on the edge of your seat. Demons, assassins, mayhem, and murder--could it get more exciting? [caption id="attachment_104153" align="aligncenter" width="625"]
Source: www.andypeloquin.com[/caption]
A New Brand of Coffee
Yes, you may be a staunch Starbucks supporter, but why not break the routine? You know the swill they serve at the office just isn't any good!
Death Wish Coffee
is known as "The World's Strongest Coffee", and the Fair Trade, Kosher, USDA-certified coffee beans will kick your work into overdrive on your first day back. [caption id="" align="aligncenter" width="682"]
Source: www.amazon.com[/caption]
A New Hobby
Sick of spending all your time indoors? Why not spend your weekends doing something totally new and crazy--LARPing (Live Action Role Playing)? It's a hella-fun way to get out, meet new people, and engage in a little escape from real life! Or, to go a different direction, why not try your hand at a bit of cosplay? Don't knock it until you try it! [caption id="" align="aligncenter" width="636"]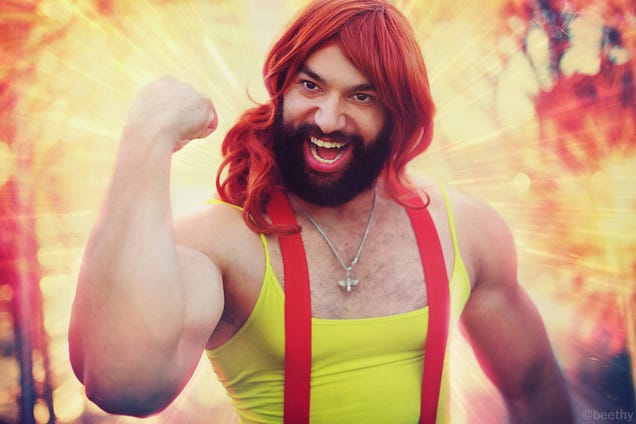 Source: kotaku.com[/caption]
A New Workout Routine
You've rocked that bikini body all summer long, but no time to rest on your laurels. You've got to get back on the horse and push yourself hard in preparation for Thanksgiving Dinner, Christmas Dinner, all your New Years Eve drinking, and the chilly months when your motivation drops. BodyRock has got your back on this one? Take up (
whatever new workout program is pushing
) and get the results you want!
A New Healthy Dish
Autumn is when all the colorful veggies come out to play, so it's time to get creative with your cooking! With so many variations of summer squashes, root veggies, and leafy greens, you can have a lot of fun with new foods. [caption id="" align="aligncenter" width="640"]
Source: thelatinkitchen.com[/caption] Why not try one of
Cooking Light's amazing fall recipes
and expand your palate the healthy way?
A New Supplement
After all that drinking, eating, and partying over the holidays, it's time to give your body a break! Probiotics will help you to restore a balance to your digestive system. The beneficial bacteria in
kefir
can do wonders to get your digestion back on track and keep you healthy as you adjust to "normal" eating habits once more. [caption id="" align="aligncenter" width="631"]
Source: www.benefitsofkefir.com[/caption]
Do you follow us on Instagram?
[caption id="attachment_104005" align="alignnone" width="100"]
@BodyRockTV[/caption]
Leave a comment