This Brave Fitness Professional Shares His Cancer Story
Young Man Bares All (Colostomy Bag Included) for Colon Cancer Awareness
"You have colon cancer." As we all know - cancer does not always discriminate. A healthy, fit, young male diagnosed with colon cancer wants to share his story to raise awareness and help save lives. It was Friday the 13th of June 2014 when these words left my doctor's lips. At 28, this isn't something that I was prepared to hear. At 28, I thought I was immune to these things. As a fitness professional, I never imagined I'd be susceptible to colon cancer. At 28, I never thought that I'd become the face of a cancer awareness campaign -- posing with my colostomy bag no less.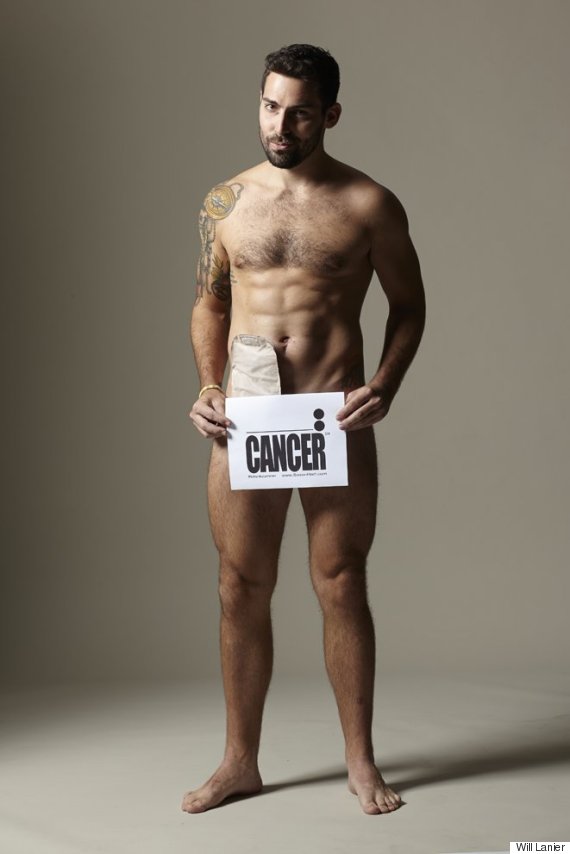 What followed over the course of the next several, post-diagnosis months, was an interesting turn of events. As a self-certified nerd, I researched the oh-so-many intricacies of the disease -- its symptoms, its various stages, its survivors and those not so lucky. To give some perspective, researchers recently analyzed U.S. National Cancer Institute data from 1975 to 2010 and realized that the overall colon cancer rate for Americans 20 to 34 rose by 2 percent each year. The study predicts that by 2020 and 2030, colon cancer rates are expected to jump by 38 percent and 90 percent, respectively, among people aged 20 to 34. If you're my age, are you speechless? When I read that, I was taken aback. Immediately, a ton of questions raced through my head. How can this be true? Why don't more people know this? Why has it taken being diagnosed to find such research and data? If people my age are so susceptible to such a curable cancer, why does every piece of colon cancer awareness documentation urge only those over 50 to get screened? What do you do with this information? I reached out to a very good friend of mine, Heidi Burkhart, president of cause marketing alliance Saxon/Hart and also an avid fitness buff, who was equally surprised and appalled at the stats concerning colon cancer and how it is affecting our generation at an alarming rate. Being the A-type personalities we both are, Heidi offered to bring her team at into the fray to create a way to bring awareness of colorectal cancer to the public. Voila! The #BLANKCANCER social media campaign was born. We not only wanted to raise awareness; quite frankly, we wanted to make it as easy as possible for people to "shoot the sh!t" (pun intended). One of the main reasons there is a lack of awareness is because colon cancer has long been stigmatized -- it presents itself with embarrassing symptoms that most people just aren't comfortable talking about. The good news is, there are easy, non-invasive screening tests available. If you're 20 to 34 years old and reading this, did you know that? The problem is, NO ONE KNOWS ABOUT THEM! It's simple. You poop in a waste bag and take it to the lab -- it's as easy as that. Sure it's not a sexy topic, but it can help save your life. If after examination, they find hidden blood in your stool (an indication of colon cancer), you're getting a colonoscopy to dive deeper into the issue. These are called Fecal Occult Blood Tests (FOBT)/Fecal Immunochemical Tests (FIT), and they can be performed yearly. In December of 2014, I went into the hospital for my final surgery. When I woke up, my colostomy bag was gone, and I was on the road to recovery. It's funny -- the little things. The little things sometimes teach us the biggest lessons in life. This little, microscopic cancer has changed my life in ways I don't even fully understand yet, but it's something I'm looking forward to exploring...for many years to come.
To join in, support the cause and help raise awareness for colon cancer -- and all cancers for that matter -- please print your own #BLANKCANCER sign, take a selfie and share across social media.
I wish him good luck on his road to recovery. And kudos to him for sharing his story, his picture and his desire to raise awareness. Source: 
http://www.huffingtonpost.com/will-lanier/young-man-bares-all-colos_b_6988740.html
Feel free to follow me on my 
Facebook
 page or check out more from me on my blog at
www.zuzanaorbodyrockaddict.blogspot.com
Leave a comment