Is this smart advertising or is it celebrating sexual harassment?
What's squeezing a woman's bottom got to do with sport?
OK, as Bodyrockers most of us are not prudes. We are used to sexy ads promoting health and fitness. We have seen Lisa workout in her underwear!
We've all seen our fair share of other provocative ads on TV, in magazines, on the internet  - ads that are sexy, half naked men and women - typically that has nothing to do with the product they are selling.
But this advertising is different in my opinion. The ad of a man attempting to squeeze a woman's behind, and another where he IS actually grabbing another woman's butt just seems so inappropriate.  It is out of line, bordering sexual harassment and even sexual assault if his improper and rude behavior was not warranted.
There are plenty of ads out there where men and women are sexual in nature - as partners. I don't see these cycling ads as 2 people pairing up. I see it as demeaning. What say you?
Here's more on the story and what the man in the ad had to say. I'd also be interested in knowing what the woman in the ads have to say.
"This poster makes cycling look very outdated. They're relying on a 'good old boys club' tactic to help them sell a product -- and in this case that product is racing," said professional cyclist Kathryn Bertine.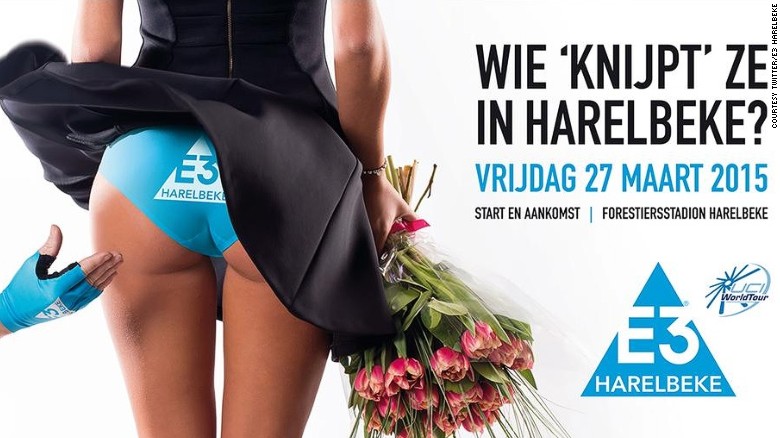 (CNN)A gloved hand reaches for a scantily-clad backside.
It could be an image from the hit television series "Mad Men," which documented the ribald world of advertising in 1960s America.
Except this is 2015 and "Who squeezes them in Harelbeke?" is the poster strapline for the eliteE3 Harelbeke competition in Belgium, accompanied by that gloved cyclist's hand poised to pinch a woman's bottom.
Unlike the wind provocatively lifting up her skirt, the controversial advertisement wasn't dreamed up out of thin air.
It's inspired by previous winner Slovak Peter Sagan, who pinched a podium girl's behind at the 2013 Tour de Flanders -- something he later apologized for, saying "I promise to act more respectfully in the future."
A week earlier, he was also pictured on the E3 Harelbeke podium, making an ass-grabbing motion towards another flower girl.
E3 Harelbeke's organizers chose to celebrate his antics in their 2015 campaign, sparking a global debate about sexism in cycling that has raced far beyond the billboard.
Judging by E3 Harelebeke's provocative standards, the poster could even appear tame compared to previous years.
In 2011 organizers opted for a naked woman lying in a field, while the silhouettes of miniature riders traversed her bare backside. More baffling was last year's poster featuring a woman straddling three other females curled into the shape of a bike.
"I think E3 Harelbeke are rather out of kilter with the way that most people think today."
"A playful nod"
Cycling's world governing body, the Union Cycliste Internationale (UCI) has since requested the poster be removed, to which the E3 Harelbeke organisers have agreed -- not that they necessarily see it as offensive themselves.
"Personally, no I don't think it's sexist," Marc Claerhout, E3 Harelebeke manager, told CNN.
Could he see why others might find it offensive?
"I don't know. You have a lot of publicity where you see more than some underwear," he said. "And we didn't mean it as sexist."
The organization has since withdrawn the poster, releasing an official apology to "anyone who might find it intimidating, discriminatory or sexist."
"The organization launched this campaign as a playful nod to the stage incident two years ago in which a rider got ready to squeeze the buttocks of a flower girl," it added.
"Telling the race organizers to remove the posters is not much of a deterrent," added the retired cyclist whose autobiography "The Breakaway" highlighted sexism within the sport during her over decade long career.
"A whopping fine and canceling the race would have sent out the strong message that there is no place for sexism in cycling. Instead, the race has received huge publicity."
Celebrating sexual assault?
The poster also glorifies what would be seen as sexual assault in any other workplace, said Laura Bates, founder of the "Everyday Sexism Project."
"It contains a direct reference to an incident of sexual assault, which shouldn't be treated as something to celebrate and joke about," she added.
Similarly, Belgium's Institute for the Equality between Men and Women, said the image violated 2007 anti-discrimination legislation and "incited sexual intimidation."
It's unlikely the same image would have been used in a female tournament.
"Not only is the poster sexist -- this race doesn't even have a women's field," said Bertine, who has long campaigned for a women's edition of the Tour de France equal to the men's -- a race often seen as the ultimate prize in cycling.
"Here we are, fighting these battles to make equality happen. And posters like this are not helping to pave the way for cycling," she said.
She sees the problem not with the majority of "supportive" male cyclists, but with the lack of female representation among race directors and promoters.
Money talks
Indeed, sponsorship is a big factor is getting a race like the Women's Tour de France off the ground, said Alex Russell, one of two females on the board of British Cycling.
"A lot of it comes down to whether something has a market value -- and it's not necessarily down to gender," she said. "We've introduced a women's tour in Britain and we have got financial support for that. But you can't just jump to mass spectators and mass broadcasting because these things grow incrementally."
Former World Road Race champion Cooke points to the discrepancy in prize money as another big obstacle for women within the sport.
"The inspiration for the poster is the 2013 Tour de Flanders, for which male winner Fabian Cancellara received €20,000 ($22,000) for his efforts. In comparison, when I won this event, I was happy for the team to split the modest €1,000 I received amongst the other riders," she said.
"The biggest change I would recommend to provide protection, security and credibility for female road riders, would be the introduction of a minimum wage, as there is in place for male riders," added Cooke. "Cycling cannot be allowed to exist outside the laws of society, like some sort of medieval anarchy."
It seems that rather than a podium girl's bottom, the one being put under the spotlight at this year's event, will be the organizers themselves.
I think that the posters with the man grabbing or attempting to grab the woman's body is completely out of line. The posters of the woman 'riding' other women and the other of the naked woman with bikes on her back are just another provocative ad. I see distinct differences between these types of ads. How about you?
Source: http://edition.cnn.com/2015/03/04/sport/e3-harelbeke-cycling-sexism-poster/
Feel free to follow me on my Facebook page or check out more from me on my blog at www.zuzanaorbodyrockaddict.blogspot.com
Leave a comment